Whew! Time sure flies. I *finally* uploaded the pictures from our Spring Break trip to San Francisco. We got to spend a few days with Jason's brother John & his family who we don't see too often. It was a trip full of driving (yes, we drove), family, fun, and lots of cold wind. *brrrr* No sunny California for our spring break, but that's okay.
So on to the pics:
The California Academy of Sciences
In Golden Gate Park - a beautiful place. The Academy was really cool, and obviously half of the city thought so too, because it was packed! It took more of the day than we had planned, but it was way cool.
The Aquarium

I really, really wouldn't want to run into this guy in a swamp.
Princess's favorite butterfly in the rainforest dome.
Can we have one for a pet, mom?
** No animal was harmed in the taking of this photo. It's not a real turtle.
In case you were worried.**
On to the Golden Gate Bridge.
Here you can see how HUGE the cables are!
On the tour.
Think long and hard about your behavior from now on, boys. Alcatraz gave mom some great ideas. And yes, that *is* a threat.
Solitary confinement... not a bad idea.
No more whining. I mean it!
Anyone else think the fabulous view from the prison might have been cruel and unusual punishment? Oh, wait. They were locked up inside. Nevermind.
The movie we saw--twice--on the trip. And every day since then we've heard "She likes to Move It, Move It. He likes to Move It, Move It" ad nauseum. It's almost like our morning get-ready-for-school theme song.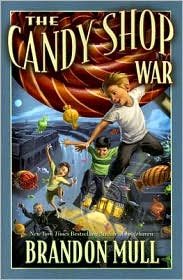 The book on CD we listened to for many hours of driving. It kept the kids' interest - which kept them from fighting (as much). Bless you, Brandon Mull!
Jason & I also went for a run in some beautiful country. It gave me spring fever like nothing else! Then the next day my friend texted me a pic of the 4 inches of snow in our backyard. :(
I thought I took more pictures than I apparently had. Like any pictures with cousins, or on the cable car. *facepalm* I'll have to get those from my SIL Samantha. (Please, Samantha?)
We had a good time and I foresee more San Francisco trips in the future.